It looks like the new era in WWE, with Paul Heyman and Eric Bischoff running RAW and SmackDown Live behind-the-scenes, could be kicking off this coming Monday and Tuesday night.
According to an e-mail blast that WWE has sent out to fans, Paul Heyman will be starting his role as Executive Director of WWE RAW for this coming Monday night's show at the American Airlines Center in Dallas, Texas, and Eric Bischoff will start as the SmackDown Live Executive Director on Tuesday night's blue brand show from the AT&T Center in San Antonio, Texas.
The e-mail blast includes photos that feature tag-lines that read, "See what Paul Heyman has in store for Monday Night RAW" and "See what Eric Bischoff has in store for SmackDown Live."
Not only will they be in their new roles, but WWE is advertising that they will also be on TV, meaning the two could have on-air roles as part of the changes despite initial reports to the contrary.
Additionally, PWInsider.com is now reporting that the two are already officially "on the job." As noted, their ideas and contributions will be implemented over a period of time rather than immediately so there isn't expected to be any massive changes that will be immediately noticable when watching the shows.
Check out the aforementioned e-mail blast with the photos advertising Paul Heyman and Eric Bischoff for this coming week's episodes of RAW and SmackDown Live below, and make sure to join us here at eWrestling.com on Monday and Tuesday evening for live play-by-play results coverage of both shows.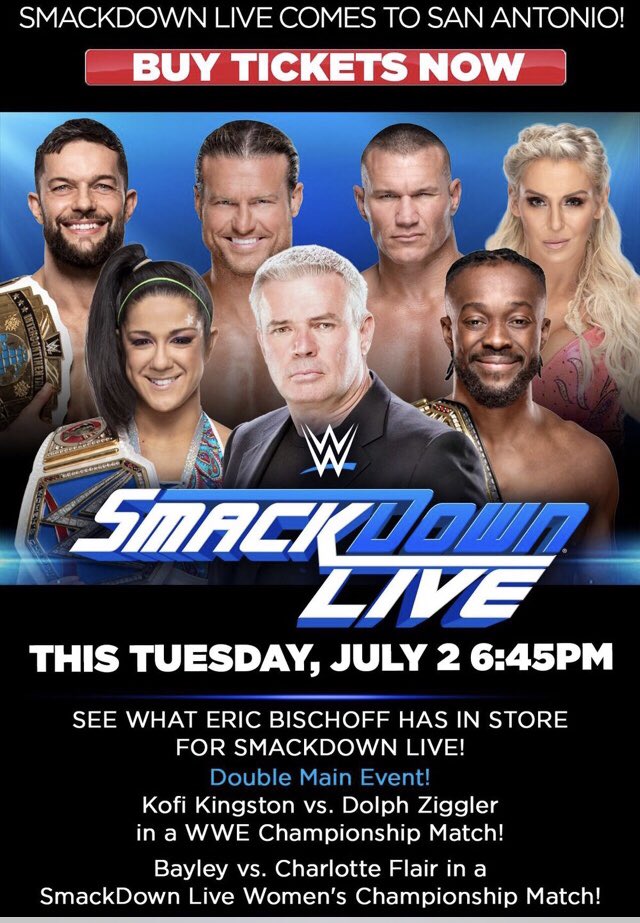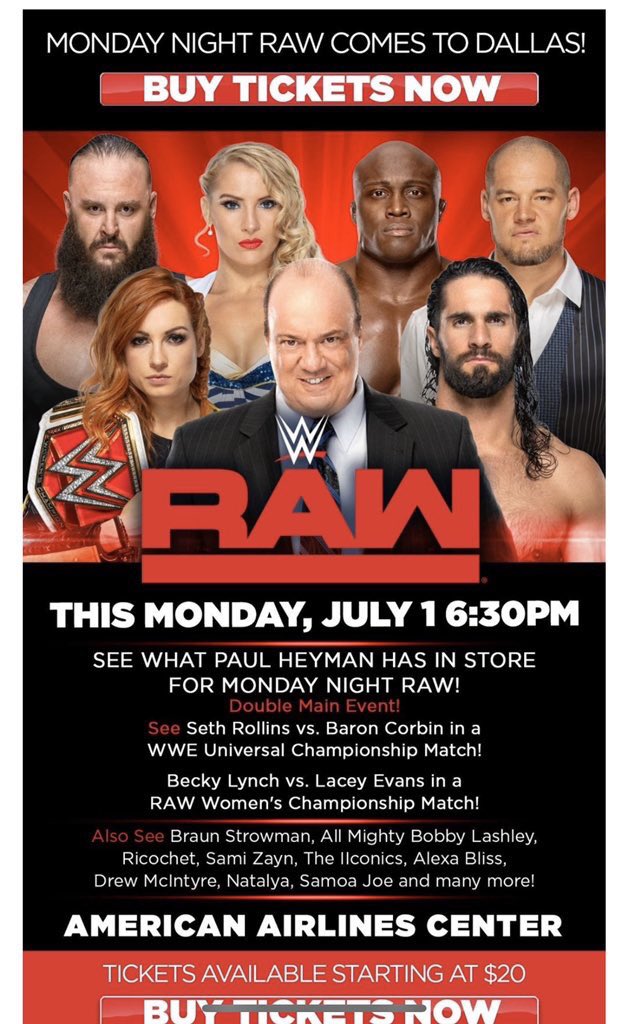 eWrestling.com Social Media Interaction
@MattBoone1984

@eWrestlingCOM

Facebook.com/eWrestlingCOM

Disqus.com/home/forums/http-ewrestling-com

Recent Related Headlines
WWE Creative Team Up Until 4:30am Working On RAW Script For 7/1

Heyman & Bischoff Taking Over RAW & SD! This Week? (Photos)

New Member Inducted In WWE Hall Of Fame Legacy Wing (Photos)

Could Brock Lesnar Be Headed To AEW When WWE Contract Expires?

Photos: Undertaker Shows Off Gift Michelle McCool Got Him

Backstage News On WWE Negotiating With Paul Heyman To Run RAW

Backstage News On WWE Negotiating With Eric Bischoff To Run SD! Live

Kenny Omega Offended WWE Running Against AEW, Explains Why

The Undertaker Personally Requested To Work With Drew McIntyre

Report: Former NXT Champion Returning At WWE Extreme Rules PPV?

What Does WWE Think Of Matt Riddle Taking Shots At Goldberg?

Backstage News On WWE Running Head-To-Head Against AEW In July

What In The World Is Bray Wyatt Talking About In These Tweets?

Jon Moxley Reveals WWE Stars Who Encouraged Him To Work In NJPW

The Young Bucks Have Special Ring Gear For AEW Fyter Fest

Former WWE Star Shows Off His Absolutely Bizarre New Look (Photos)

Undertaker's Son On Plans To Follow In Father's Footsteps In WWE (Photos)

Photos: Liv Morgan Dancing In Sexy Outfit On Stripper Pole